THE ART-PAGE:


JÜRGEN SCHMITT ARTIST
MASTER PUPIL & TEACHER


TOPIC 1: PAINTINGS AND DRAWINGS

"The artist Juergen Schmitt often places the pictureworthyness of apparently simple evrydayappearances . With this topic the artist Juergen Schmitt takes up the main motive of his earlier often erotic designs, i.e. the connection of death and Eros and changes its artistically, to the spreading motive of the volatileness of all human work..."
Dr.Andreas Kaernbach,Kurator der Kunstsammlung des Deutschen Bundestages


TOPIC 2: PHOTOGRAPHIC AND PHOTOOVERPAINTING




"Schmitts photooverpaintings are actually very often Vanitas pictures, in which beauty with volatileness is seen together. However the beauty is only recognizable by sensing beyond the reality surface, new to see as texture of possible paintings."




Ulrich Bergmann (Historiker,Bonn)
in der Ausstellungseröffnung Burghaus Stollberg 1.5.1988: Jürgen Schmitt
TOPIC 3:OBJECTS AND INSTALLATIONS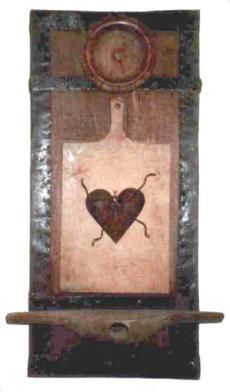 "Many objects quote with strange serious irony, forms of religious statements, in order to attend on current injuries of the humanity.The allusions tablepictures, altar crucifixes and reliquiare discover the viewer on unfulfilled postings, of humanity, of pseudoreligiosness, escape in alibiful symbolconjuring."
Bergische Blätter,Magazin für das Bergische Land über den Künstler Jürgen Schmitt
Juergen Schmitt is too personal to be identified as part of a tendency. Dreams and fantasies, sometimes with erotic imagery, predominate among his numerous drawings and paintings. His major themes are landscape, still-lifes and portraits.
Juergen Schmitt is "Meisterschueler" and studied with Josef Beuys at the national academy of arts Duesseldorf. Today he lives in the Eifel and is there artistically active.
Numerous exhibitions abroad and in Germany. Many pictures of Juergen Schmitt are in private and public collections. Since 1989 he is a member in the Federal association of artists BBK .1990 he was appointed as a member into the German society of photography due to the achievements in artistic photography (DGPh). Juergen Schmitt also drew the illustrations for the Lyrik book "Gedankenverlorenes" from Marion Schmitt, published at the Helios publishing house Aachen. Pictures of Schmitt were already auctioneered in well-known auction houses: "Bassenge" Berlin, Auction House "Zeller" Lindau, Auction House "Jens Scholz" Cologne, Auction House "Carola van Ham", Cologne and "eArt" (InterNet Auction House, Link on the left) .